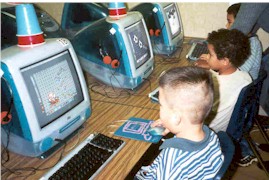 First grade students working through a tutorial
in Kidpix, to be followed with a connected
language arts experience.
Technology in schools is a fast-growing phenomena for many reasons. I see it as an incredible method for incorporating many subject matters in the classroom. It is also a growing source for research information in virtually every field. Website publishing, Hyperstudio presentations, and other multimedia projects are a wonderful way for students to create a rich presentation of what they have learned through their studies.