MULTIPLE INTELLIGENCES

What is the Multiple Intelligences (MI) Theory?
"MI postulates that individuals don't have one fixed intelligence, but at least seven to eight distinct ones that can be developed over time."


What are the Intelligences?
1• Logical-Mathematical (Number Smart)
2• Verbal-Linguistic (Word Smart)
3• Interpersonal (People Smart)
4• Intrapersonal (Self Smart)
5• Musical (Music Smart)
6• Bodily-Kinesthetic (Body Smart)
7• Naturalist (Nature Smart)
(8• some also include Aesthetic)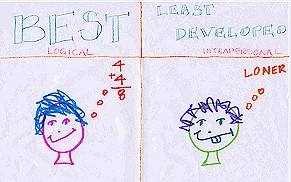 Helping students understand their strong and weak intelligences can cause them to excel in many areas.